Getting your beauty sleep whilst having your period is definitely a complicated one to handle. And sometimes they arrive on the unexpected. So we wanted to give you tips on how to survive during the night in order to not wake up in a blood bath.
A Towel : if you are scared and stressed of staining your bed sheets, get an old towel and adjust it to your liking inside your bed. This way if damage happens, the towels has first dibs. For extra safety ness, we recommend buying a comforter to put on mattress so in case of serious blood baths, it will not go through the bed sheets
Wear old underwear: we all have been to a point where we've ruined our favorite underwear. In order to enable this from happening, switch out your pretty ones for old ones.
Dark sheets : This one is definitely a favorite and a life savior. If you are sleeping with someone or you are embarrassed of staining your bed, switch out your pretty bed sheets to dark sheets. This way you will less likely be able to spot your stains rather than seeing them in bright red and it won't be a big loss.
Adjust your room to cold temperature
Nothing better than sleeping in a chilled room. Even better when you have your periods. Sleeping in colder temperature rooms can improve improve your sleep quality, this can even help you fight insomnia.
Change your protection during the night
Changing your protections during the night is totally normal and understandable. We recommend leaving a pair of fresh underwear along with your protection by your toilets in case of a disaster so you do not have to wake up the whole house searching for what you need. If you are stressed about forgetting to change, set an alarm around the time you wish to do so ( don't forget to bring your phone flashlight for some light). We recommend changing your protection right before going off to sleep that way you will have a fresh new one for the start of your night. As soon as you wake up, hit the toilets or the bathroom to change your protections, to feel cleaner we recommend washing your intimate area with neutral ph soap to feel good right away.
Sleep in a comfortable position
We all deserve a goodnight sleep when it comes to our periods. There is no better position but it is advised to sleep in a comfortable one. In fact, this will lead to less tossing and turning which will leads to less bunching in pads which prevents leaks. This will help you fall asleep easier
Try the Menstrual underwear
Our go to for night time. We definitely recommend trying the period panties for the night. Not only they are incredibly absorbent, they prevent leaks during the night but also within having a tampon or a pad, they provide an EXTRA layer of protections from stains. So no need to worry about stains during the night with period panties.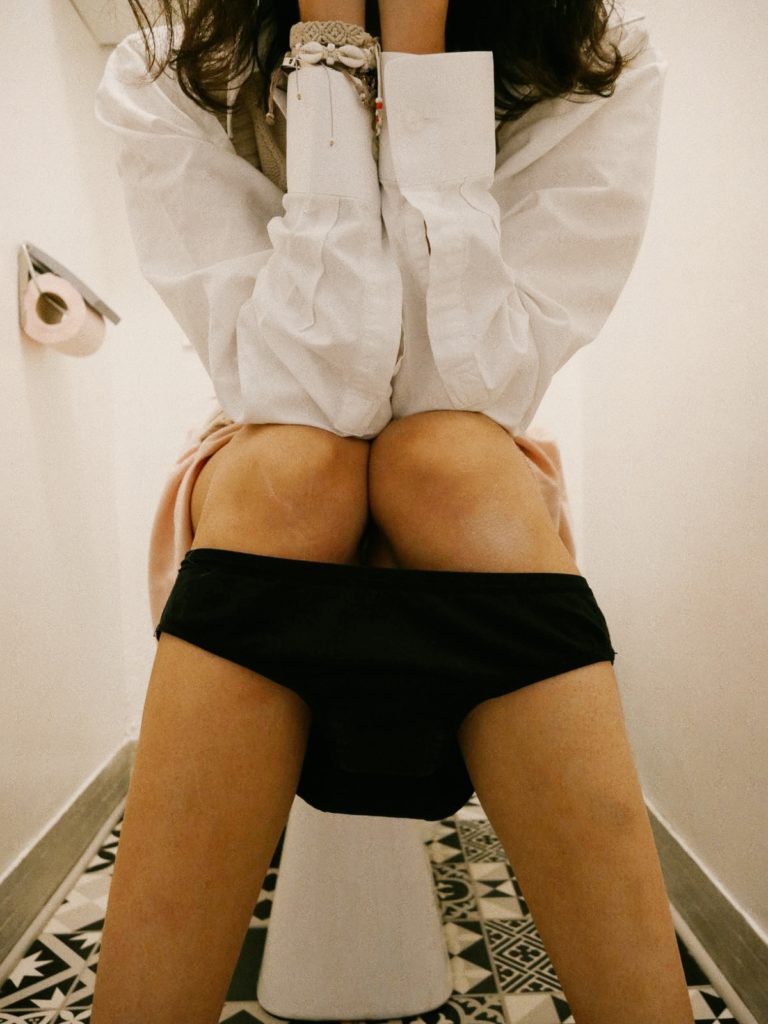 Drink, Hydrate and repeat
During your periods, you experience bloating and hormonal fluctuations. As your progesterone and estrogen levels rise, your body retains more water. Drinking water helps blood from thickening. It is essential to drink at least 9 to 10 glasses of water a day to help fight your bloated belly as it flushes waste out of your system.